Appearance prior to death
Basic Information
Name
Periwinkle Winter
Status
Deceased
Gender
Female
Age
15
Height
4'11"
Weight
92 lb
Hair Color
White
Eye Color
Lavender Blue
Ethnicity
Norwegian/French
Mage Information
Mage Type
Standard
Mage Item
Lotus Hairpin
Main Color
Periwinkle
Level
1
Prior to Death
Fame
10.5
Job
ColourGirls
Goods
2/30
House
E6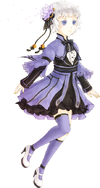 Level 1
Raw Stats

Equipment Stats

Power
0
Power
0
Potential
5
Potential
5
Magic
65
Magic
65
Speed
25
Speed
35
Luck
10
Luck
14
Level 3
Lotus hairpin will glow softly to produce large amount of water droplet which can be used to heal herself or her ally for 25% of his or her total health. Limited to once every 15 minutes.
A very powerful spell which will create an enormous lotus bud made of ice to envelop the anyone or anything within 7 meter radius. Lotus hairpin will glow brilliantly as the spell is cast. While engulfed by the lotus bud, nothing inside will be damaged by anything else. When the lotus bud blossoms, it will shatter and deal massive damage.
There is a 30% chance of inflicting frostbite after the lotus bud blossoms.
Likes cold places
Dislike the rain
Community content is available under
CC-BY-SA
unless otherwise noted.